Online but also in documentaries and even in books people have claimed that the first same sex kiss on television between women happened in an episode of the TV show 'L.A. Law' in 1991 and between men in an episode of 'Dawson's Creek' in 2000.
That is not correct.
At first this appears to be a typical case of the American media ignoring that there is a world outside of the United States and that we also have televisions!
Some reporters forget to add "ON AMERICAN TV" when they write about the first this or that.
But although the kiss in 'L.A. Law' may have been the first kiss(es) between two women on American TV, the one in 'Dawson's Creek' was not the first romantic kiss between men.
Before we continue we must also make a distinction between romantic kisses and non-romantic or platonic kisses.
A romantic kiss involves love and/or passion, a general kiss can be out of friendship, as a joke, etc.
Obviously the first television broadcasting of a serious romantic kiss between people of the same gender is a milestone, it is of huge importance.
While people of the same gender kissing in a comedy, by accident, etc. is a lot less loaded.
What follows are examples of people of the same gender kissing each other on television across the world, I make no distinction between drama (scripted kisses) and real life ones such as in documentaries.
This article is just meant to point out when and where the first same sex kiss was broadcast.
This list is incomplete and a work in progress, I'll update it whenever I find something new.
First some examples of non-romantic kisses.
Although nothing more than a peck, I'd like to make an honourable mention of the moment in 1966 when translator and communications officer Nyota Uhura (Nichelle Nichols) gives Nurse Christine Chapel (Majel Barrett) a welcome kiss, which technically makes it both a same sex and interracial kiss, 2 years before what is often, incorrectly, described as the first interracial kiss on TV, you can read more about that kiss in my article by clicking here.
The earliest same sex kissing broadcast on TV anywhere, as far as I know, was between famous comedians Dean Martin and Jerry Lewis on the show The Colgate Comedy Hour aired on Sunday 8:00 PM February 4th, 1951 on NBC.
There was a lot of kissing going on in their TV shows and movies and although it was platonic and often part of a slapstick joke, their relationship was more than just friends, especially in 1950s America they were showing something rarely portrayed, an intense and loving relationship between two affectionate men who didn't mind showing it.
As Jerry Lewis himself described it;
"What we had was a love affair, two men that adored one-another, that was the key." (source)
Perhaps it was an early version of what some today would call a 'Bromance'.
But they weren't the only men kissing on TV in the 1950s.
Famous comedian Sid Caesar deserves a mention here, not just because there was a lot of men kissing each other in his tv show 'Your show of shows', broadcast on April third, 1954 at 9:00 p.m. in the evening (prime time), but also because it's just very funny;
In 1972 Sammy Davis Jr. planted a kiss on the right cheek of Archie Bunker in the tv show "All in the Family," which might have been the first kiss between a black and white man on US TV but yes, they were pecks, friendly non-romantic/passionate kisses.
On October the 18th 1990 at 8pm, cartoon characters Homer S. Simpsons and his secretary Karl kiss in the episode 'Simpson and Delilah' of the long running show 'The Simpsons'.
Which although in a cartoon is still two men kissing on US TV during 'Prime time'.
In the show 'Will & Grace', characters Will and Jack kiss live on national television, but the kiss is there to make a point, not out of romance, although it is quite passionate.
However the kiss was broadcast at 9PM on the 22nd of February 2000 (also during prime time), three months before the famous May 24th same sex kiss in 'Dawson's Creek'.
Now onto the romantic, passionate and other same-sex kisses.
It is very possible that movies with same sex kisses, passionate or otherwise, were broadcast before these shows were shown.
As I'll show at the end of this article, cinema beat TV to it when it comes to most thing, especially in the pre-code era.
But until I happen to find out that one of these movies was indeed broadcast on TV before any of these other kisses that I mention here, we can't be sure.
Let's get one contender for the first kiss between two men that was more than just a peck out of the way first.
On the 6th of December 1998 at 8:30 the TV show 'That '70s Show' aired an episode that showed a passionate kiss between two young men.
Although one of the men was gay and the other not and it was a one-sided unwelcome attempt, it technically was a (half) passionate kiss between two men broadcast in the US during Prime Time in the US.
This could be considered the first if there wasn't an earlier one in 1970, more about that one at the end of this article.
The first romantic kiss between two women on US tv was broadcast in an episode of NBC's 'L.A. Law' in 1991 at 10PM, which technically is Prime Time in the U.S.A. but although this one is often lauded as THE first one on TV, it wasn't.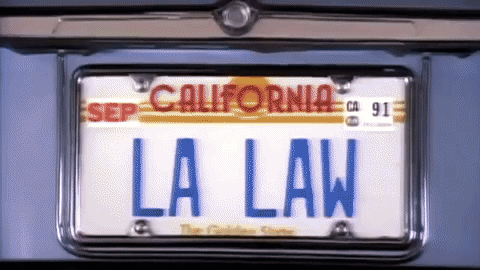 In the UK the first same sex kiss between two women (played by Alison Steadman and Myra Frances ) was in a series called 'Second City Firsts, in an episode titled 'Girl' which aired on the 25th of February, 1974.
It started at 21.25, only 25 minutes after the watershed.
A few days earlier, during the first episode of Australian soap 'The Box' , broadcast on the 11th of February at 9pm 1974 (which is Prime Time in Australia), two women kissed and for a long time this was considered to be TV's first ever gay kiss.
But in 1972, also on Australian TV Peter de Waal and Peter Bonsall-Boone, a same sex couple, shared a brief kiss in ABC documentary series 'Chequerboard' (the couple stayed together for 50 years but sadly Peter died before they were allowed to get married).
On the 31st of January 1972 West-Germany broadcast it's first gay kiss in a film titled "Nicht der Homosexuelle ist pervers, sondern die Situation, in der er lebt" (It Is Not the Homosexual Who Is Perverse, But the Society in Which He Lives) ;
But none of the kisses mentioned above are the first passionate kisses between men or women on TV.
On August 6th 1970 at 21.10 the BBC broadcast Christopher Marlowe's play 'Edward II', in this adaption Sir Ian McKellen passionately kissed James Laurenson.

This play was also shown on American TV on Ed-TV as part of a CBS broadcast on September 27th 1975 for the first time but repeated on other channels afterwards.
According to the review below it was broadcast on October 4th including the love scene at, 5, 6 and 9PM (all prime time).
But technically that makes this also the first romantic kiss between two men on US TV, beating all other contenders by quite a few years.
This play was advertised with nearly full page ads in the New York Times and reviewed in detail;
However, Dutch television had two gay men kissing passionately several times in a documentary called 'Portret van een homofiel' that was aired on April the 26th, 1970 at a quarter past 10 in the evening, making it the first passionate kiss between two men on TV anywhere in the world, for now.
You can see the full documentary (in Dutch) by clicking here.
But the first kiss between two women on television was in 1963 in the Brazilian TV show 'A Calúnia' between Vida Amélia Guedes Alves and Geórgia Gomide.
It was a live theatre-play broadcast in the evening, the show started at 8pm and ended at 10, the kiss was broadcast near the end so it is unclear if this was during 'prime time'.
This kiss was not a peck on the cheek, a kiss forced by an alien race, a joke or a misunderstanding, it was a full blown gay kiss between two women in love.
The broadcast was based on the 1934 play 'The Children's Hour' by Lillian Hellman, a dramatic story about two women accused of being gay finding out that they indeed have feelings for each other.
Actress Vida Alves said;
"…The two characters were directors of a school. Then someone spread a rumor that they were lovers… Parents got mad because of it and the school ended up closing. On the day that it was supposed to close, the two actresses looked at eachother in a very tender way and kissed. They, who had no involvement with eachother, realized that they were truly in love."
(source)
This is the first same sex and gay kiss I could find in TV history but because it was broadcast live there is no record of it, not even a photo.
A photo often shared with the claim it is this kiss is actually from the 1931 German movie 'Mädchen in Uniform' (1931).
Some of these kisses were broadcast late in the evening or were seen by a relatively small audience.
For that reason they're not all equally important.
The first of something always has value, but the first kisses on soaps such as US TV's 'Dawson's Creek' in 2000 and British TV's first gay mouth to mouth kiss on 'Eastenders' on the 24th of January 1989 have their own place in history as they reached a huge audience and thus having a bigger impact than some of these other kisses.
Each kiss has to be seen in its own context but also the era it was broadcast in.
A gay kiss on German TV in the 1970s would have had a different impact than one on American TV in the 1990s.
As I mentioned earlier, Hollywood had same sex kisses decades before television had even been invented and European cinema in some cases went even further.
Here are just a few examples, if any of the following films have been broadcast on TV in the 1950s, 1960s or 1970s, they could change the list above completely.
Unfortunately I've not yet been able to prove that they have indeed been broadcast or when they were broadcast.
If you do, let me know.
Finally two lists of films with LGBT themes;
List of LGBT-related films pre-1920
List of LGBT-related films of the 1920s
Picture(s) found online, used for (re-)educational purposes only.
I do not own the copyrights to this picture, I only share it here for educational purposes to try and make sure the real story behind it becomes known and people will stop spreading false information.
If the copyright owner objects to the sharing here, kindly contact me and I shall remove it right away.